Click here to follow my play on Twitter…
… and here to follow on Facebook
As I mentioned in my previous post on the Page to Stage Festival, the writers' meeting in Liverpool last week ended with a 'speed dating'-style event to meet prospective directors. Each of the eight writers had a table and the ten directors moved round to spend four minutes (or was it five?) at each one.
Although I have produced written pitches before, this was more-or-less the first time that I had really had to pitch any of my writing face-to-face, so I was a little apprehensive. I had meant to think through exactly how I was going to present my play (An Everyday Apocalypse) the day before, but those good intentions having somehow been carted off by Hell's latest road maintenance contractors, I ended up scribbling down a few notes on the day on the train up.
I would have two minutes or so to pitch to each director (given that I would also need to leave time to hear about them, of course), and I could see some potential pitfalls that had to be carefully navigated. In particular, there is one aspect of my play that I thought would need to be presented rather carefully, to avoid putting people off.
Because… this play involves…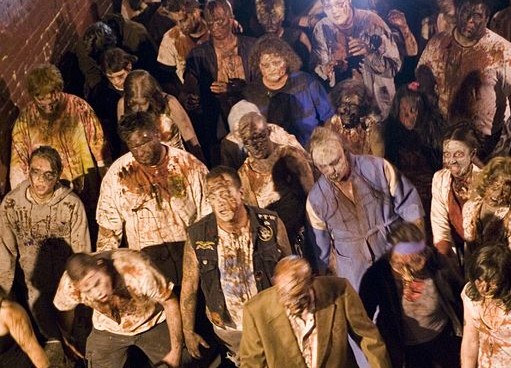 … zombies.
While zombies are clearly a hook – there is plenty of hugely successful zombie fiction, after all – in a two minute pitch, they could also be a bit of a liability. If your opening salvo is "Hey, this play has zombies in it," then I think you risk setting up your listener to think that it might be just a little bit… silly. You immediately imagine someone in dodgy make-up lurching across the stage in pursuit of some hapless victim, and given that said stage is likely to be quite small, pretty soon you are forced to imagine them lurching back in the other direction or, indeed, round in circles like some horrible undead parody of a Benny Hill chase scene*.
And, importantly, the play isn't really about zombies.** It's about two characters, trapped in their home and the effect that the ongoing apocalypse has on them and their relationship. Even if you were talking to the biggest zombie-fan imaginable, too much talk about the reanimated dead would set up false expectations that could cause trouble later.
So I tried to open my pitches with the characters; who are they, what is their relationship, where are they headed? Then, hopefully having managed to establish at least a particle of credibility, I threw in the zombies in the third sentence or so.
This strategy seemed to work out acceptably on the day, but I can see a similar issue rearing its head when it comes to planning the publicity materials. Do you put a zombie on the poster? If so, you risk simultaneously setting up false expectations and putting people off who might actually enjoy the play (or the people that I'm hoping might enjoy the play, at any rate). Then again, if you don't put a zombie on the poster, then surely you are failing to capitalise on a big draw that would help to get people through the door.
Perhaps there is a middle way. Clearly, some careful thought is required.
Click here for the announcement of the
director of An Everyday Apocalypse!
---
* And those are quite horrible enough already!
** There's a link for Wittertainment fans. See also "It's not about spying."
---
IMAGES
Writers/Directors' Event: Brian Coyle
Zombies: Joel Friesen – Creative Commons