This rather elegant fact has been going round on Twitter:
"It can't be true … can it?" Rachael Formula. More info/discussion: http://t.co/gh6Lt76si1 pic.twitter.com/sDc547kEyV

— Cliff Pickover (@pickover) April 15, 2015
r
However, there are other examples of this phenomenon…
@pickover @Derektionary This has not been unknown to the dabbler in such matters. The number 3 and 3/8 behaves in a parallel fashion.

— Chris Maslanka (@ChrisMaslanka) April 15, 2015
r
i.e.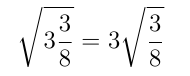 In fact, pleasingly, we can construct an infinite number of facts like this.
Let's say that we want to find positive integers A, B and C, such that:
 √(A + B/C) = A √(B/C)                                                               [1]
We can also suppose that B < C (otherwise our mixed fraction would be a little odd) and that the highest common factor of B and C is 1, so that the fraction B/C is in its lowest form.
To find a relationship between A, B and C, we can square [1] and rearrange the equation to get the A terms on one side:
___________________________[1]   ⇔           A + B/C = A² (B/C)
_______________________________⇔                      A = (A² – 1) (B/C)
_______________________________⇔         A/(A² – 1) = B/C    ,   A > 1                                                        [2]
We can use double implications (⇔) here since we know that everything is positive.
Now, [2] tells us that two fractions with positive integer numerator and denominator are equal. Both fractions are in their lowest form (B/C because we said so earlier, while A and (A²–––1) clearly have a highest common factor of 1). Therefore the numerators and denominators are equal:
[2]   ⇔   A = B   and  A² – 1 = C   (if A > 1)
This means that there is an infinite family of solutions of the form:

Any integer greater than 1 will do as a value for A, so we have: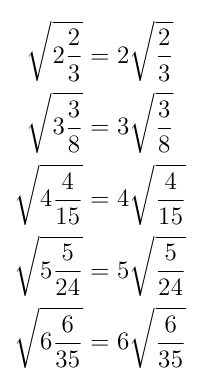 and so on…
Rather nice.
Click HERE for another investigation of a maths tweet from Cliff Pickover.